Maintain your Body Weight with the Bellycrush Yellow Pea Fiber Snacks:
In recent days most of you are very much concerned about your health and your body weight so to solve this you can find high and rich fiber snacks from Bellycrush snacks. Company is located in Canada and founded by Dr Nancy Markley and they are involved in manufacturing different kinds of healthy products. The manufactures clinically have proven weight management solutions to the market and it originally sounds like yellow pea fiber cookies that gave amazing solutions to the people. Here are some of the fiber rich products that are offered by Bellycrush.
Ginger Flax:
This product is delicious ginger flax cookies that are made with high in plant-based fiber. For better results you can consume this one cookie for 30 minutes before breakfast, lunch and dinner. It has ingredients such as yellow pea powder, brown sugar, butter, corn syrup, eggs, flaxseed, canola, oil, almond flour, enriched wheat flour, baking powder, ground ginger, allspice and cinnamon. It has nutritional values such as niacin, reduced iron, thiamine, mononitrate, riboflavin, and folic acid.
Oatmeal Hemp:
This Oatmeal Hemp is a cookie with ingredients such as yellow pea fiber, corn syrup, brown sugar, butter, eggs, oats, hemp hearts, canola, oil, almond flour, enriched wheat flour, baking soda and cinnamon. It has nutrients such as enzymes, ascorbic acid, niacin, reduced iron, thiamine, mono mitrate, riboflavin and folic acid.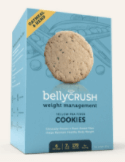 Additional Features:
Clinically Proven:
The Belly Crush cookies are not like other weight management solutions that you can find in the market. The yellow pea fiber cookies are clinically tested with the help of controlled clinical study. It gave amazing results of the double-blinded, placebo-controlled clinical study that is compelling with data published by two peer –reviews, academic reviews, journals under the clinical nutrition and nutrition research.
It is Unique:
You can find that the yellow peas possess a unique fiber composition proves traditional benefits of fiber additionally it also provides benefits like loss fat, reduce calorie consumption, increases gut health, and increases insulin production. It also proves the double-blinded, placebo-controlled clinical studies.
It is Easy:
To manage over your weight the yellow pad fiber cookie is one of the best as well as easiest way to yield better results.
Have Great Taste:
The Belly Crush cookies are made with a hard number of chefs to come up with a variety of recipes that comes along significantly-backed. It has mouth-watering tastes because these are not like other diet cookies as the cookies are high fiber with a crispy outside and soft inside. It gives you better natural flavors in every bite of the cookies.
Why choose Yellow Pea Fiber:
Yellow pea fiber is considered as one of the unique plant-based that are made out of yellow pea hulls. It is a kind of pulse crop, like lentils and chickpeas it is cultivated from the region of Canada and North US and they are a good source of fiber and protein.
Bottom Lines:
Thus these are the products offered by Bellycrush. Hurry! Buy the cookies at an affordable price from the online shopping site.
Join Our Newsletter and Get the Latest
Posts to Your Inbox
Thank you! Your submission has been received!
Oops! Something went wrong while submitting the form.